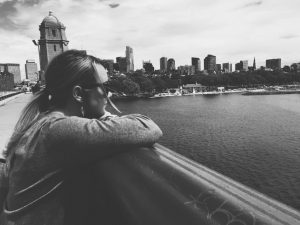 Earlier this semester we announced that Nicole Brackman, (MS, '17) was selected to attend the Summer Institute for Future Scientists in OT.  She also had the opportunity to attend the second annual Summit of Scholars, bringing together OT researchers and scholars.  Nicole shared her experiences with faculty in this email:
Wow! What an amazing experience I had at AOTA's Summer Institute and Summit of Scholars. From running into Winnie Dunn in my pajamas to traveling alone (my first time ever) to eating a lobster roll at Quincy Market….
Thursday was the Summer Institute. I was surrounded by other students from across the country with various educational backgrounds. Thursday was filled with information regarding future scientists, different pathways to obtaining a PhD, various PhD degrees, how to seek mentors, and setting research goals. I got to listen to so many inspiring people – PhD candidates, scientists, and other scholars. Amy Lamb, Wendy Coster, Elizabeth Skidmore, and Ellen Cohn were just a few of these individuals. It was an exciting day. After, we were able to network at a nearby restaurant.
Friday and Saturday were the OT Summit. This was another awesome day! The theme was "From Tradition to Innovation," and various researchers discussed the struggles they sometimes face in moving practice forward. There were roundtable discussions, posters, and presentations. I was able to hear from so many people in the field of OT and get an understanding of their backgrounds and where they believed research should focus to advance the field. One of my personal favorites was Tracy Mroz, who has a PhD in Health Services Research and Policy. She is amazing!
 I left this event with a busy brain and a full heart. I feel extremely inspired to pursue a career in research. I wanted to personally thank you all for your effort toward this opportunity – it was truly a game changer for me!
Nicole is currently completing her final level II fieldwork.  The O.T. department wishes her and her classmates much success in their careers as therapists and possibly as researchers – advancing the profession and impacting the lives of O.T. consumers everywhere!