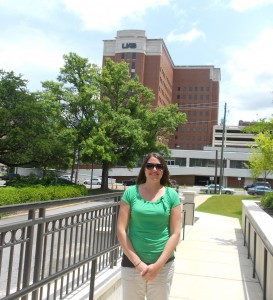 Kelly Downs recently obtained a Graduate Certificate in Low Vision Rehab from the University of Alabama at Birmingham (UAB). The online coursework took 5 year-round semesters for a total of 19 credits and included an intensive weekend in Birmingham in June 2014 for hands on experience with magnifiers, assessments, and the opportunity to finally meet and network with her online classmates.
Kelly answered a series of questions via email:
What does the certificate prepare you for?
The degree prepares me to work with individuals with low vision–specifically glaucoma, diabetic retinopathy, and macular degeneration. It provides in-depth assessments and interventions, from an OT perspective, to work with individuals with low vision. The program also provides two courses focused on changes after brain injury. The coursework provided an elective on the business side of advocating for and starting a low vision program.
 What motivated you to pursue this certificate?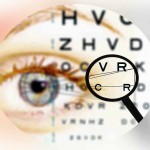 In my first job, I worked on the brain injury unit of a rehab hospital. I found vision to be an area that continued to stump me! I attended a 2-day course in 2012 presented by Mary Warren. It was called Visual Processing in Brain Injury. At the course, Mary shared information regarding the certificate program at UAB. I learned a lot from the course and started to research Mary's program at UAB. I wanted to have more in-depth and specialty knowledge in this area. I also knew Mary as a guru in addressing visual changes with a focus on the role of OT.
Would you recommend this to others?
Definitely! The coursework prepared me to work with a variety of populations: specifically individuals with brain injury (stroke, TBI, etc), as well as the elderly in general. The coursework also emphasizes OT's role in diabetic self management, including low vision adaptations and medication management. It has helped me to "think outside the box" when treating patients. It has allowed me to see new areas to intervene and new ways to educate and advocate for patients.
 What is your current employment? 
Currently I am working in acute care at York Hospital. I am a permanent therapist in the ICU and with the trauma population. Three years ago, I remember saying, "I will never work in an ICU!" Little did I know I would move to acute care and take a permanent position there!
What else have you been doing since you graduated from Etown?
I have been tackling the ups and downs of home ownership for 5 years! I have enjoyed traveling in the United States and Mexico. I have kept up some great relationships with fellow OTs from Etown, as well as gathered new mentees/mentors and friends from my two jobs. I have continued my interest in volleyball by playing in a recreational league. My coursework, and working full-time, actually consumed more time than I thought! After a few months off from school, I am looking for my next professional, academic, or personal pursuit…who knows what it will be!
 Any words of wisdom to share?
Look for opportunities and continue to expand your horizons! In high school, I envisioned myself working as a pediatric OT or as an outpatient therapist. In college, I took geriatric courses and thought I would work with this population. I started my career in acute rehab and learned to love working with the TBI population. Before starting my low vision coursework, I decided to make a move to acute care. I apply the coursework in vision and low vision screening with brain injury and the general acute care population. I have used my experience with TBI to educate other acute care therapists on screening for vision deficits and high level cognitive deficits. At this point, I have interest and experience with vision, brain injury, acute rehab, acute care, early mobility in the ICU, and the list continues! Never stop learning or finding new areas of interest! Never stop trying to find new ways to work as an OT and work to the full potential of your license!