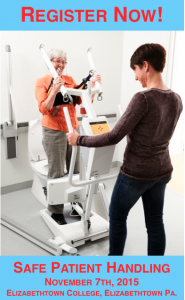 Are you frustrated by your efforts to launch an effective Safe Patient Handling program in your facility?
Meet with nationally known experts on implementing Safe Patient Handling programs, and connect with other therapists via mentoring groups during our conference!
Get the support you need to make it happen!
You will earn over 6 contact hours of professional development, too.
Click HERE for more information or to register.