by Carly Ensor, SOTA Publicity Chairperson
Several weeks ago our Student Occupational Therapy Association (SOTA) celebrated OT week on campus.  OT week is held annually to promote OT around the college community.  OT week included a banquet on March 31st, where OT students and faculty gathered together to celebrate achievements and memories from the previous year.  Scholarship recipients and students who have volunteered at OT department open houses were recognized, and the evening concluded with a video presentation of photographs from the past year – both inside and outside of the classroom.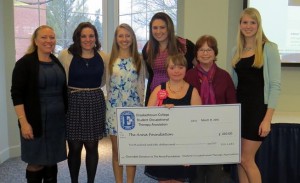 SOTA's executive board works very hard to bring in a guest speaker annually whose life has been impacted by our profession.  This year, our students and faculty alike were inspired by Miss AnnaRose Rubright, a very successful young woman who just happens to have trisomy 21. AnnaRose shared about her many successes in life including graduating high school with a very high GPA, being a member of the national honors society at her school, and now attending a local college. She highlighted the importance of person-first language, and how using it allows for a better relationship between medical professionals and their clients.  AnnaRose explained that receiving O.T. early intervention services allowed her to achieve success in all aspects of her life.  She is very thankful that her therapy team allowed her to be very independent and truly live life to the fullest.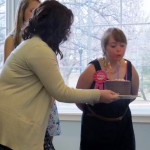 AnnaRose and her parents started The Anna Foundation for Inclusive Education, which is dedicated to the enhancement of the educational experience of students with developmental delays and their participation in inclusive education. Because the Anna Foundation's values align with our profession, SOTA chose to present AnnaRose with a $250 charitable donation so that they could continue their efforts. In addition, SOTA presented AnnaRose with a birthday cake and led everyone in singing, "Happy Birthday" to celebrate her 19th birthday, which was the same day as the banquet.  Happy Birthday, AnnaRose!
Students, faculty, and other guests were inspired by the wonderful, hard-working, and successful Miss AnnaRose Rubright.  This year's SOTA banquet was a successful gathering to celebrate the club and very exciting profession of occupational therapy.
What did you do to celebrate OT Month?