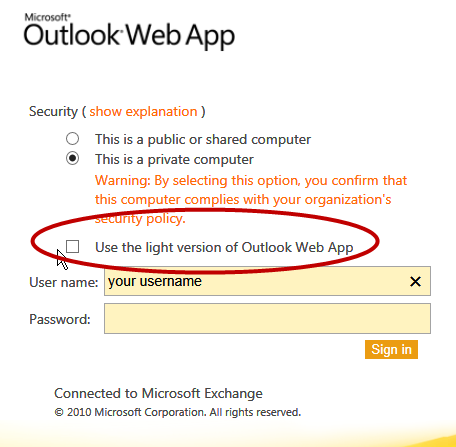 Recently Internet Explorer upgraded to version 11 and wouldn't let you un-check the light version when logging into Outlook Web App (OWA).
ITS found a solution for college-owned computers connected to our network. This fix will occur when you restart your computer later today.
Other web sites also require Internet Explorer 11 compatibility view. These specific sites will work on your network connected college-owned computer in Internet Explorer 11 if you restart your computer.
JCLOCK.ETOWN.EDU
SCHEDULE.ETOWN.EDU
PNCACTIVEPAY.COM
SURVEYMONKEY.COM
For personal computers, you will have to apply a manual compatibility view fix for the short term. ITS is in the process of updating OWA to work with Internet Explorer 11. That process will be complete after December 16th and users can then remove the compatibility view fix. Directions for removing the fix are described in the same ITS Knowledgebase's Compatibility View article.
Share and Enjoy