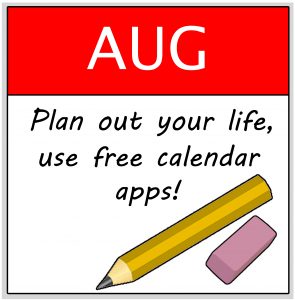 Gone are the days that you dealt with calendars on physical paper. And since our phones are always on us, worries of misplacing our schedules are in the past. But getting organized is still a daunting task. Here are several apps to make your life easier. Best of all, they're free!
Microsoft Outlook (iOS and Android) may seem like a too obvious choice, but it's a fantastic way to manage your time. Connecting it to your email is a breeze, and you can even attach files from your email to an event. You can also attach files from other services like Dropbox, and use specific icons for different events.
Google Calendar (iOS and Android) is another simple option that may be just right for you. With options to view events in daily, three day, weekly, and monthly formats, you can find exactly what you're looking for easily. This app also features cute graphics and map depictions of where your event is. Best of all, you can set personal goals and give yourself a deadline in your calendar.
Rolo (iOS) is great for those of us who like visual depictions of how our time is being spent. Its simple, circular layout depicts how much time in your day is spent doing things like working, going to class, in meetings, and more.
Raft (iOS) may just be the perfect solution for planning things with a group of friends. Rather than exchanging complicated series of messages that leave people unsure of exactly when and where you're meeting, invite friends to events and chat with them through this app.
Adapted from https://www.popsugar.com/tech/Best-Calendar-Apps-42389584
Share and Enjoy