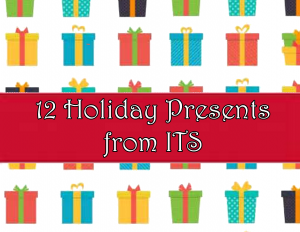 ITS has a present for you this holiday season! We know that you'll love it, because it's a compilation of our twelve most-read articles of 2017. Happy holidays from ITS!
To-Do List Apps to Organize Your Life
Getting organized is a daunting task, so here are several apps to make your life easier. Here's to less stressful organization!
2017 New Year, New You!
For the new year (be it 2017 or 2018), here are seven tech things to consider to make your tech-integrated life even better.
What's Up with Those Robocalls From My Area Code?
A new technique is allowing scammers to make it appear as though they're calling from your town. Beware of these smart robocalls and stay safe by never giving away your personal information.
Computer Tips and Tricks, Part I
This series by ITS chronicles a variety of computer tips and tricks to make your experience smoother and simpler. Part one covers miscellaneous keyboard shortcuts.
Happy Valentine's Day – Chrome Extensions You'll Love
If you want to be more organized, get more work done, and procrastinate less, then these Chrome Extensions might be perfect for you. Make your life easier with one or all of these apps.
Nicarry Renovations
All second-floor Nicarry rooms now feature new furniture and wrap-around whiteboards. The rooms are now outfitted with a Crestron control panel, PC, Blu-Ray player, a projector, and zoned and dimmable lighting, as well as a mic and webcam.
Organizational Apps for Busy People
Regardless of whether you're a student or an instructor at E-Town, you're probably a busy person who could use a little more down time to relax. These free organizational apps will help you get your life together and maximize your time.
Gmail Email Scam
Gmail has been the target of a few recent phishing scams.  Here's how to spot and report a common Gmail scam.
Phishing Scams are Getting Smarter
Put your skills to the test. Can you spot the tell-tale signs of a phishing scam in this email? Give it a try. These phishing scams are getting smarter. Are you sure you can spot them all?
Chrome Extensions to Amplify Productivity
There never seems to be a quiet moment as a student. Have you used your studying time efficiently? Increase your productivity with these six Google Chrome extensions.
Clearing Space on Your Phone
Nearly all cell phone users have experienced the dreaded message telling them that they don't have enough storage. Both Androids and iPhones have a variety of things that you can do to free up space.
Xfinity on Campus
Xfinity on Campus is here! Residential students can watch, stream, and record your favorite shows for free when you are connected to the college network.
Share and Enjoy