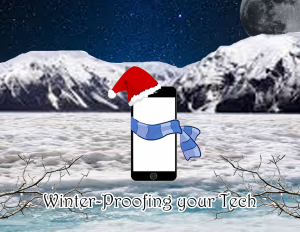 The extremely cold and often wet conditions of winter can lead to your technology getting damaged or even destroyed. Preventing this, as well as being prepared for winter storms, can save you a great deal of trouble in the months to come.
Below-freezing temperatures can destroy hard drives and potentially crack screens. To keep this from happening, ensure that laptops, phones, and other large devices are inside and aren't left in the car for extended periods of time. If they must be left in a vehicle, wrap them in a sweater or blanket to keep them warm and prevent temperature damage. Because phone screens are more susceptible to cracking in the cold, put a case on them to prevent damage should they be dropped.
With frequent snowstorms, the chance of water damage happening to your laptop is higher and could lead to your hard drive or processor getting permanently destroyed. Use a case or waterproof sleeve to transport your laptop to significantly reduce the likelihood of it getting waterlogged in poor weather.
Electrical outages are uncommon, but be prepared by taking these precautions. If you know that a large storm is coming, make sure that all devices are fully charged in the event that you won't have access to a power source for several days. Reduce screen brightness and modify energy settings to conserve power in situations like this. Most importantly, make sure your files are backed up on an external drive in the event that weather does damage your device. Stay safe this winter, and keep your devices safe, too!
Share and Enjoy