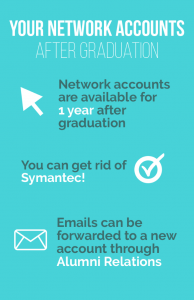 When you graduate a lot in your life changes. Everything can be very overwhelming. What happens to your network folders? What happens to your email? How do you forward emails? What do you do with Symantec now that you're graduating? Well, never fear, ITS is here, and we have you covered.
Your E-town accounts are accessible for one year post-graduation. This includes email accounts, network folders, websites, JayWeb, Digication e-Portfolios, and any other E-town managed service that you log into with your network account.
Any software downloaded free from the college or additional access provided through the college will also be available for a short period of time after graduation. Any software such as Office programs will need to be removed from your computer.
You can have emails forwarded to a new account through Alumni Relations. Visit http://www.etownalumni.com to find out more about forwarding accounts.
You can finally get rid of Symantec! Yes, Symantec Endpoint Protection will no longer update once you are off campus, so there is no point in keeping it around. Be sure to download another valid antivirus software though. Most internet service providers provide free downloads of this software.
For more information about uninstalling Symantec, visit the Knowledgebase and read this article: Uninstalling Symantec. 
When you graduate, you will receive an email from ITS about graduation policies regarding your account. You will also receive an email one year later informing you that your account will soon become inactive.
For more information about what happens to your account when you graduate, visit this FAQ page all about it: http://www.etown.edu/offices/its/faq/upon_graduation.aspx.
Share and Enjoy