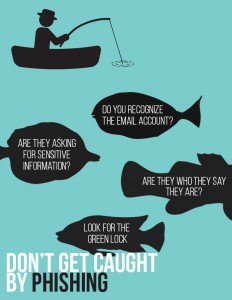 Happy April Fool's Day! Are you planning on fooling someone you know? Have you been the victim of a great prank yet?
Pranks are all good and fun until someone's security is at risk. Don't be fooled by phishing this year. Learn how to guard yourself and your accounts from phishing attempts.
Phishing attempts are scams that try to trick you into releasing your passwords or other sensitive information. I guarantee you that Arabian Princess is not an actual princess in need of your help. When deciding if an email is legitimate, consider a few factors:
Do you recognize the account emailing you? If you don't recognize the information, then it could be a phishing attempt. *Be aware that phishing is not limited to email. Phishing attempts can be suspicious phone calls or text messages as well.
Does the message ask you to provide sensitive information? The goal of phishing is to get your private information in order to commit fraud. If a strange email asks for your password, or your bank information, be cautious.
Are you sure they are who they say they are? Always double check that the site is what you think it is. Phishing is getting fancier and even a site you think you recognize may be slightly off indicating a phishing attempt. Never click on links in emails that you don't trust or are from an account you don't recognize. By hovering over an email address, you can see the domain that the email came from. Most phishing emails will not have a matching domain address.
Do you see the green lock in the corner? Webpages will use the green padlock in the corner of the address bar or the web address starts with "https://"  to identify legitimate or safe sites to input your sensitive information. These webpages have protections in place to ensure that your information is safe. If you don't see the green padlock, or worse if you see a red X, your security could be at risk.
If you think that an email is a phishing attempt, do not reply because this too can be dangerous. If you have received a phishing email forward the email immediately to mailcop@etown.edu. If you have fallen victim to a phishing email or phishing attempt or believe you may have, call the Help Desk as soon as possible at x3333 (717-361-3333 from off-campus.)
Remember ITS will never ask for your password.
Share and Enjoy