If you haven't been to Nicarry 133 since its renovation over Spring Break, now is the time to do so. With the implementation of the pilot equipment, there is a plethora of new items for the classroom available for students and instructors alike. From several different types of chairs to different interactive whiteboards, there is no limit to implementing technology in the classroom.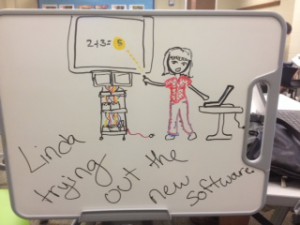 Testing New Technology
Dr. Macaulay and her student workers have been testing several new technologies which can be integrated into the classroom for instructors in all departments. These technologies include the projection of an iPad/tablet or iPhone/smart phone onto the whiteboards, the Lightspeed Flexcat integrated sound system, and analyzing the functions and special features of each of the interactive whiteboards.
Types of Workspace
"Circle Up" Corner – Designed with group work in mind, this cozy corner offers a circle-up approach for group work including a large overhanging light, portable stools, and a round discussion table on which participants can write with whiteboard markers.
Portable Desks with Portable Whiteboards – Made for every classroom, these portable work stations can be combined to create large desks for group work and projects or split to seat two students for lectures. Included are hanging whiteboards which can be set up at the ends of table for displaying work or group discussion.
Portable Whiteboard Stations – Standing after long periods of sitting can be extremely beneficial, not just for health reasons but also to engage the mind. These portable whiteboards can be moved about the room for individuals or groups to stand while presenting findings. The whiteboards are useful for demonstrations, one-on-one teaching, or visual demonstrations in group work.
Types of Interactive Whiteboard
SMARTboard – one of the most well-known interactive whiteboards, the SMARTboard is located at the front of the classroom on the wall between two regular mounted whiteboards.
Eno Board – a new version of the interactive whiteboard, this board combines the feel of a normal whiteboard with the technology of an interactive board. It can be written on with regular whiteboard markers and also by using the magnetic strip along the left side to write electronically as is possible with SMARTboard.
Epson Interactive Projector – another interactive whiteboard, this board utilizes a projector to display the screen and can be written on with regular whiteboard markers as well.
Join in On a Class   
If you'd like to observe the new technology in action during a class before the end of the year, feel free to stop by at 12:30-1:50 PM on Tuesday, April 26th to sit in on Dr. Linda Macaulay's Integrated Technology course when her students will present their impressions of the different interactive whiteboard technologies. Please email Linda at macaulayl@etown.edu prior to dropping by so she knows to expect you.
Share and Enjoy