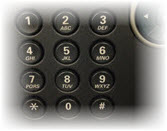 If you have to change your PIN because you don't remember it or just want to change it, you can do it yourself using a browser, preferably Mozilla Firefox.
Though voice messages arrive in your college inbox, you can also check them on your phone. To check them on the phone you need to know your phone PIN. You'll also need the PIN if you want to change your greeting.
Note: Shared phones such as those in adjunct offices don't sync voicemail to an email account, so those phone users can't take advantage of the internet method of changing the phone PIN. In that case, you must contact the Help Desk (x3333) for the PIN and then let the other users of the phone know the updated PIN.
KB Article: Change Voicemail PIN
Share and Enjoy