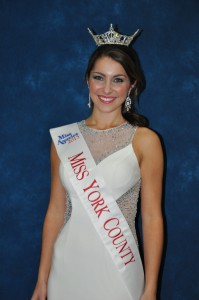 Marla Peiffer was recently crowned "Miss York County" – part of the Miss Pennsylvania and Miss America Organization.  The "Miss York County" pageant is open to young women who live in York County or surrounding counties.  Marla is from Quarryville, PA, in Lancaster County.
Marla's involvement in scholarship pageants began as a senior in high school when she entered a school-based pageant and won the "Miss Solanco" scholarship.  Since then she has entered multiple scholarship pageants, including competing in the Miss Pennsylvania pageant where she was a Top Ten finalist and placed third runner up in 2014.  This most recent pageant resulted in a $4,000 scholarship, but Marla says other pageant awards have also helped with her college expenses.
The scholarship competition includes a talent component.  Marla's talent is tap dance, and in her most recent pageant win, she danced a routine to "R.O.C.K in the USA" by John Mellencamp.  The competitions also include an interview with judges.  Marla says these interviews can be very intense with questions ranging from issues of gun control to the Affordable Care Act.  She says the interview portion forces her to think on her feet, clearly communicate her thoughts and opinions, and be prepared with knowledge and awareness of various current events and issues.
Contrary to stereotypes about beauty pageants, Marla reported that these competitions are really more about service and scholarship.  Her fellow contestants are nice and sweet young women who are also very ambitious, with goals of professional careers in law, medicine, and yes – Occupational Therapy.  Marla commented that the scholarship competition is a great way to promote awareness of and advocate for occupational therapy; invariably she has to explain to someone what OT is and what OTs do.
In addition, scholarship competitions require contestants to have a platform or critical issue they want to promote.  Marla's platform is "Inclusion Revolution – Best Buddies Moving Forward."  Best Buddies is an organization that promotes friendships and social integration for adults with intellectual and developmental disorders (IDD).  Marla has been a member of the Etown College Best Buddies club since her freshman year, and is currently serving her second year as President of the club.  As part of her critical issue platform, she promotes inclusion of adults with IDD, the use of person-first language, and the removal of the "r" word ("retard") from language about adults with IDD.  Marla commented that being involved in a pageant competition is really about setting goals for yourself and striving to achieve the goal.  She said, "It's neat to see the multiple challenges, even if you don't win.  Each experience shapes you and changes you."
So what's next for Marla?  She will compete in the Miss Pennsylvania pageant in June, in Pittsburgh PA.  Of course, she still has to finish her senior year of college and earn her bachelor's degree in May.  Her first level II fieldwork experience is also scheduled for this summer in Lancaster, and she has a year of graduate OT studies ahead of her next year.
Best wishes, and good luck, Marla!  Keep up the great work in and out of the classroom!