Renovations of the A/V equipment in these Esbenshade classrooms has been completed over winter break:
E 163
E 182
E 184
E 260H
E 273
E 360
E 368
The classroom upgrades will improve the functionality for teaching both remote and in-person students while keeping to our standards for in-room presentation, and include:
Lectern PC
Dual monitors on lectern
Projector
USB-C laptop dock connection
VGA with auxiliary audio connection
Webcam
Hovercam (document camera)
The dual monitor configuration is different than in other classrooms across campus: one monitor will display what is shown on the projector, the second will display only the lectern PC. If the lectern PC is selected as the projector source, there is a link on the desktop to duplicate the desktop or extend between monitors, providing work space that is not viewable by the class.
We have added a shortcut on the lectern PC desktop to the knowledgebase where you can find more detailed instructions and videos.
The USB-C connection connects the laptop video/audio output and USB devices. Video, audio, and USB devices (including webcam and hovercam) can be routed separately by manually selecting the destination or together by selecting "Send to All." The USB devices will not be available to older laptops without the USB-C connection.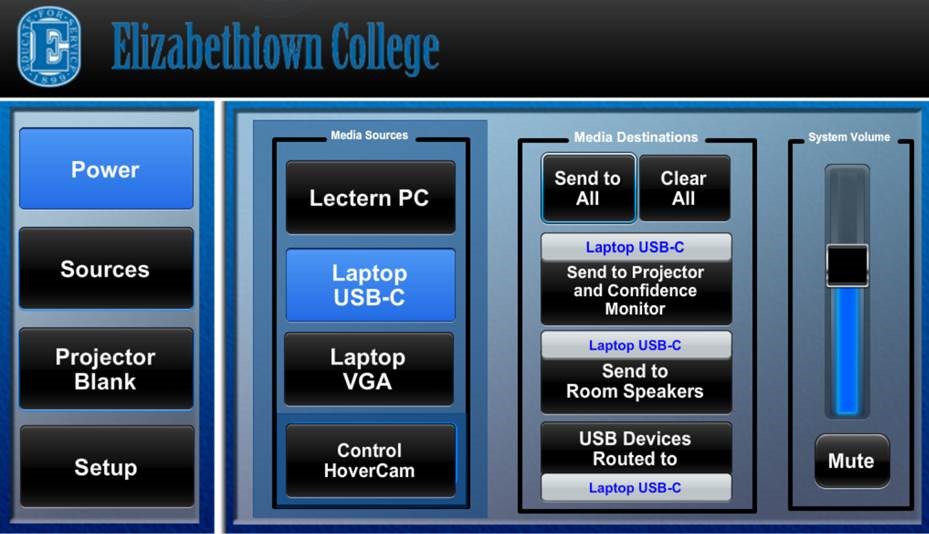 The installed webcam and hovercam can be used with either the lectern PC or the laptop dock connection. This laptop connection will allow Zoom to run from the laptop and provide opportunity to take advantage of the in-room devices.
The monitors will be mounted on a single mount and will be movable simultaneously with a bar. These mounts are currently backordered but are expected to be installed prior to the start of remote classes.
Please contact the Help Desk if you would like to be updated with changes to the schedule for a particular space or if you have any questions.
Share and Enjoy