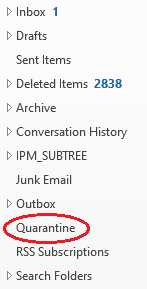 You may have seen a new folder called "Quarantine" in your email. And there may have been a message in the folder, but now it's gone… No, you're not seeing things! The folder and any messages in it are part of a new process to manage the phishing messages that impact the college email. This change is connected to the KnowBe4 Phish Alert Button (PAB) that we're using to report phishing attempts.
Until now, the management of messages reported through the PAB has been mostly manual, but a new product from KnowBe4 allows us to automate some of the steps. The new process works like this: a phishing message is reported with the PAB and generates an ITS notification. If the reported email appears to be a phishing message, there is an automated process to move it from the inbox of any Etown recipient to the new quarantine folder. Once the message has been quarantined, ITS takes a more thorough look at it and confirms that it is a phishing attempt. Once confirmed as phishing, the message is permanently deleted from all Etown mailboxes. If the review of the message shows that it is safe, it is moved back to the original inboxes.
Most of the time the quarantine folder will be empty, but because the process isn't instantaneous you may occasionally see a message there. If there is a message in the folder, it is being investigated. Please, don't open any email messages in the quarantine folder. While it's in that folder it can still be opened and cause harm. If the email message is legitimate, it will be delivered to your inbox; if it is a phishing attempt, it will be deleted from your mailbox.
Thanks for your help in keeping the Etown network safe!
Share and Enjoy