A recent upgrade to the Ticket System has slightly changed the appearance and process for creating and updating tickets. The primary change is to the updating process, but the display is slightly different for each aspect.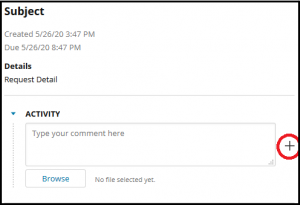 Update a Ticket
If you have information to add to an existing ticket, you can add content but you have to click the plus sign to add the note before choosing Save at the bottom of the ticket.
Create a Ticket
You can still create a ticket for support from the ITS Help Desk by signing in at https://helpdesk.etown.edu/helpdesk/WebObjects/Helpdesk.woa or by clicking the "Submit a Help Desk Ticket" option on the ITS webpage (https://www.etown.edu/offices/its/). More details about how to create a ticket can be found on this post.
Check a Ticket
Once you've signed in to the Ticket System, you can click the "History" tab at the top of the webpage to view all of your open tickets and select the one you would like to view.
As always, you can contact the Help Desk directly at helpdesk@etown.edu or 717-361-3333 for creating, updating, and checking the status of your ticket.
Share and Enjoy