KnowBe4, our partner in cybersecurity, have provided suggestions and resources for keeping your accounts safe in these uncertain times. This post, and all of those in this series, are taken directly from their website.
Phishing scams – Fake safety information: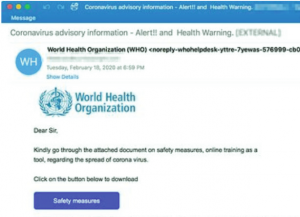 The last few weeks have shown an increase in phishing scams that appear to come from organizations such as the CDC (Centers for Disease Control) or the WHO (World Health Organization). The scammers have crafted emails that appear to come from these sources, but they actually contain malicious phishing links or dangerous attachments.There are also emails that claim to have a "new" or "updated" list of cases of Coronavirus in our area. These emails contain dangerous links.
Don't forget to hover over the links in the email messages to confirm the web addresses. If you're not certain, forward the message using the Phish Alert Button in your email. Don't see the Phish Alert Button? Forward the message to mailcop@etown.edu. Remember the best solution for finding information from these sites is to type the URL for the source in your browser, don't rely on links in messages.
And, contact the ITS Help Desk (717-361-3333 or helpdesk@etown.edu) with any questions about your cybersecurity. Be well!
Information from KnowBe4: 248_-_Scam_Alert_Coronavirus_-_ENGB_210x700mm_V1 (1).pdf.
Share and Enjoy