KnowBe4, our partner in cybersecurity, have provided suggestions and resources for keeping your accounts safe in these uncertain times. This post, and all of those in this series, are taken directly from their website.
Phishing scams – Fake internal communications: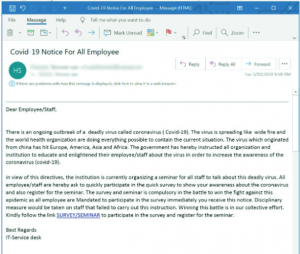 These messages pretending to be from Human Resources, the IT department, or even the College President are not new to the Etown community, but have become more prevalent as we find ourselves in a new routine.
The objective of these fake internal communications is to steal your username and password. In order to access the "document" or "survey" mentioned in the email, you have to provide your credentials on a fake site. Once you've done that, your Office 365 account has been compromised.
Don't forget to hover over the links in the email messages to confirm who sent them. If you're not certain, contact the sender of the message to confirm that it's legitimate, or use the Phish Alert Button in your email to send it to ITS for confirmation. Don't see the Phish Alert Button? Forward the message to mailcop@etown.edu.
And, contact the ITS Help Desk (717-361-3333 or helpdesk@etown.edu) with any questions about your cybersecurity. Be well!
Information from KnowBe4: 248_-_Scam_Alert_Coronavirus_-_ENGB_210x700mm_V1 (1).pdf.
Share and Enjoy