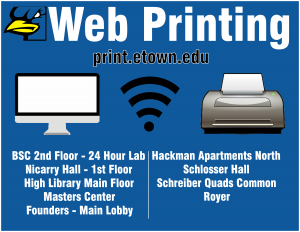 ITS offers many services to students, including printing. Often, first years and even upperclassmen don't know the full scope of the printing services that E-town offers. Many students email themselves files and print them out from a computer lab. While this is a perfectly viable option, web printing can be much faster! To web print, simply go to print.etown.edu and log in using your E-town username and password. You'll see an option on the sidebar called "Web Print". Once you click on that, click "Submit a Job". It will ask you to choose an account to charge, but don't worry! E-town offers every student 500 printed pages free per semester. From there, select and upload your file. Once it says that it's held in a queue, you have 24 hours to print your document at any of E-town's print stations.
Print stations are housed in the following locations:
Brossman Commons 2nd Floor – 24 Hour Lab across from the Marketplace
Nicarry Hall – 1st Floor Hall, southeast corner
High Library Main Floor – Circulation Area
Masters Center – Mineral Gallery
Royer
Founders – Main Lobby
Hackman Apartments North
Schlosser Hall
Schreiber Quads Commons
At a print station, simply swipe your ID and you'll be able to select and print your document from the printer's monitor. Much quicker than logging into a computer and digging through your email to find your file.
Visit ITS' Knowlegebase article for more information on web printing. To print directly from your computer, check out our article on installing the Papercut driver.
Share and Enjoy