Summer is right around the corner. No matter where you are, we are here if you have any questions about your device or using an E-town product off campus, ITS will be there to help you all summer long.
ITS will be open Monday through Thursday from 8 am to 4:30 pm, and Friday from 8 am to 2 pm beginning Monday, May 20th.
If you need us, give us a call at (717) 361-3333 (x3333) or email us at helpdesk@etown.edu. Don't be afraid to visit us in Nicarry 125 either.
Canvas Support is available 24/7 via the Help Menu in the left navigation bar in Canvas.
If you contact us outside of our summer hours, we will get back to you by the next business day.
Have a great summer!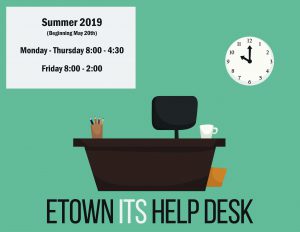 Share and Enjoy