If you have contacted ITS for assistance with an issue, you may see an email that looks something like this: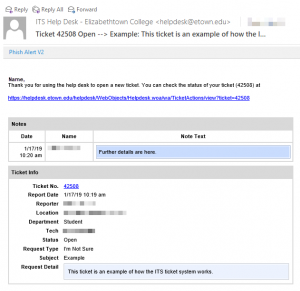 The upper box will contain details on what the ITS team has done to fix your problem. The lower box will have your information, let you know who is responsible for your ticket at ITS, and contain a brief description of your problem.
ITS will continue to email you updates using this method until the issue is resolved.
For more information on using the ticket system, including how to enter your own tickets, click here.
Share and Enjoy