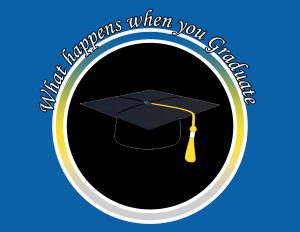 When you graduate a lot in your life changes. Everything can be very overwhelming. What happens to your network folders? What happens to your email? How do you forward emails? What do you do with Symantec and Bradford now that you're graduating?
E-town Online Accounts
Your E-town accounts are accessible for one-year post-graduation. This includes email accounts, network folders, websites, JayWeb, Digication e-Portfolios, and any other E-town managed service that you log in to with your network account. You can access your files saved on OneDrive or Office 365 for a short period of time after graduation.
Downloaded Software (like Microsoft Office)
Any software downloaded free from the college or additional access provided through the college will also be available for a short period of time after graduation. This software, such as Office programs, will need to be removed from your computer as soon as possible after graduation. After your Office access has been discontinued, you will no longer be able to use the programs. You can purchase access to Office through the Microsoft Store.  If you are headed to graduate school, check with your school to see if they offer free Office access.
Emails
You will have access to your E-town email for one year after you graduate. Consider setting up an automatic email response to let users know you have graduated and provide them with your updated contact information.
Symantec and Bradford
You can finally get rid of Symantec and Bradford! They will no longer update once you are off campus, so there is no point in keeping them around. Visit the Knowledgebase articles for uninstalling Symantec and Bradford for instructions. Be sure to download another valid antivirus software after you delete these. Double check the legitimacy of anything you download off the internet. Avast Online Security is a good option.
More information
When you graduate, you will receive an email from ITS about graduation policies regarding your account. You will also receive an email one year later informing you that your account will soon become inactive.
Before your account becomes inactive, it's crucial that you save anything from your network folders and email account to a location not related to E-town, in case it's needed for graduate school or an employer.
For more information about what happens to your account when you graduate, visit E-town's FAQ page. If you have any questions or concerns about your account, please contact the Help Desk in Nicarry 125, helpdesk@etown.edu, or x3333.
Share and Enjoy