Your day is going pretty well. You're in a good mood, you're feeling productive, and nothing seems to faze you. But then you get the dreaded message.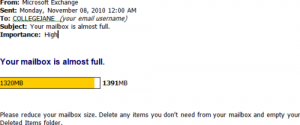 Outlook has a couple of different ways that you can clean out your mailbox.  
One option is to clear your deleted items folder. When you delete a message, it's moved to your deleted items folder. It will remain there, using up valuable mailbox space, until it's permanently deleted. To empty your deleted items folder, simply left-click and choose Empty Folder. 
Wait! Did you delete something that you didn't mean to delete? Use the Knowledgebase's instructions on how to recover permanently deleted items.  
A less destructive way to clear your mailbox is by archiving emails. If you have a space on your computer that you would like to save your old emails to, you can create an archive by using the AutoArchive function. This is found under Options, then Advanced Menu. This process is a little long, so visit the Knowledgebase for more information. But once you complete the process for the first time, your email with automatically archive itself, eliminating the need to through a time intensive process every time. 
For more information and step-by-step screenshots, visit the ITS Knowledgebase.

Share and Enjoy