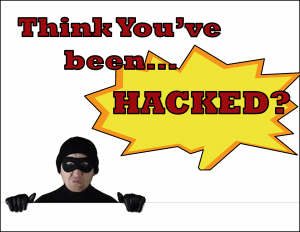 How do you know if you've been hacked? Maybe your friend tells you that they've received a spam-like email from your account. Maybe you start to notice unusually large amounts of pop-ups, redirecting webpages, or plugins that you don't remember downloading. Maybe you start seeing pop-up messages from an antivirus software that you didn't install. Or maybe you find programs that you didn't install running or requesting privileges.
Or maybe none of these things have happened to you, but you receive an email from a company that you have an account with that says that some of their data has been hacked. This may not seem a big deal if the company doesn't have any sensitive information, but what if you're using the same password for websites that do have financial information, your social security number, or other such sensitive data?
If you experience any of these things, it's likely that you've been hacked. Even if you haven't been, it's better to be safe than sorry when handling your personal data. First, quit your browser. Then, update Symmantec and run a complete scan. Restart your computer and run the scan again. Keep restarting and rerunning the scan until it doesn't find any infected files. Change your affected passwords. If you don't know which passwords were affected, it's wisest to change them all. If your computer is still acting infected, you may need to completely reformat your machine. Contact the manufacturers or bring your device to a repair shop. And contact the ITS Help Desk (helpdesk@etown.edu) to let us know. We can check your E-town email account for unusual activity.
If you think personally identifiable information was breached, you can self-report to credit agencies to put them on alert for possible identity theft.
To protect your data in the future, be sure to back up your files frequently. You can use an external drive or a cloud storage option, or both to be extra safe. Make sure to change your password immediately after receiving any notification that it may have been breached. Check the website  Have I been pwned to see if any of your accounts have been part of a known hack.
Adapted from http://er.educause.edu/blogs/2016/11/july-2017-think-youve-been-hacked-heres-how-to-shake-it-off
Share and Enjoy