Have you been to Nicarry recently? If so, you might have noticed some changes to the second floor.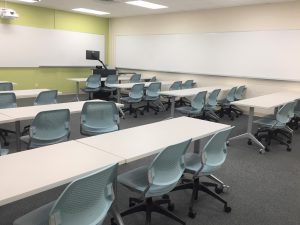 First, you might notice the very obvious addition of new chairs and tables, as well as wraparound whiteboards. Upon closer examination, you'll see that all classrooms feature a Crestron control panel, PC, and a projector. Each room is also outfitted with a mic and webcam, which make them ideal for video conferencing. All rooms will also have Hover Cam document cameras (currently backordered) and Blu-Ray players. Lighting is also zoned and dimmable, and can be controlled by the light switch or the Crestron panel at the podium.
Note to faculty: Please clean the projection surface thoroughly after writing so that the projected image is clear.

A couple of rooms, however, got an extra special makeover.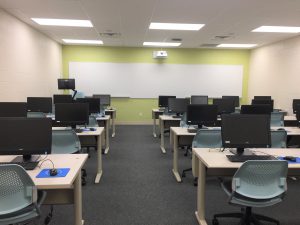 Nicarry 203 and 208:
The computer lab that was previously in Nicarry 234 has moved to Nicarry 203. Nicarry 208 has remained a computer lab.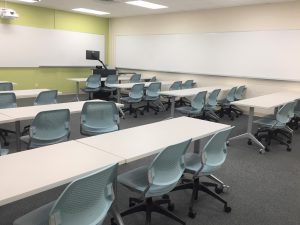 Nicarry 210 and 232: 
These classrooms are  outfitted with a Crestron control panel, PC with dual monitors and two projectors. The podium allows the professor to use either the desktop or connect their laptop, and display it on the main projector (which is a touch- enabled, interactive projector) and/or the other projector in the room.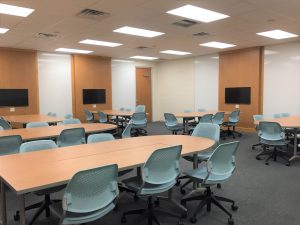 Nicarry 202:
This classroom is now completely unrecognizable. It features a PC and a Crestron control panel, which is synced to the main touch-enabled projector and the six huddle station displays, or pods, around the room, each with floor to ceiling whiteboards. These stations are ideal for students working together.
For more information on how to operate the new system, visit our Knowledgebase and select your classroom.
Share and Enjoy