Videos can sometimes explain things much better than words alone. Some presentations can be much less boring with an added video too, but clicking links, waiting for the browser to open, then finding the right place in the video can be a hassle. Save time, embed the videos into your PowerPoint.
When you add a new slide, instead of adding text, select the small video icon listed in the middle of the text box.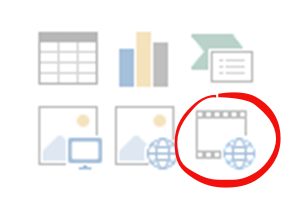 Clicking this symbol will allow you to add a video right into the slide. You can then watch the video without opening a browser. You can embed a YouTube video and many other videos from the web. You can even embed a video from Facebook if you log in with you Microsoft account (your E-town credentials).
If you are using YouTube, you can search for the video with keywords, or you can paste an embed code for any video. An embed code can be found on YouTube by clicking the Share button. You can also select the exact start time for the embedded video from YouTube. It will look like this: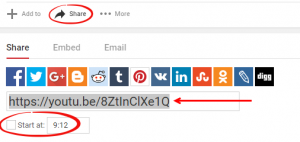 You can look for embed codes on other video websites besides YouTube to use in PowerPoint.  Usually embed codes can be found under the "share" menu or look for the word "embed" to locate the code.  Some embed codes may not be supported by PowerPoint, though, so always test it out first.
Share and Enjoy