Do you enjoy reading our content? You should subscribe to the ITS Blog! We'll send you one email weekly about the content that we posted that week. You can stay updated on what we post without having to wait for the Newsletter each month. Plus, you can read all of the awesome content that doesn't get sent in the Newsletter. *GASP* You mean to say that not everything is included in the IT Matters Newsletter? YES! Don't miss out on anything! Subscribe to the blog today!
Simply go to the ITS Blog, type your email address into the box, and click subscribe! Easy as 1,2,3.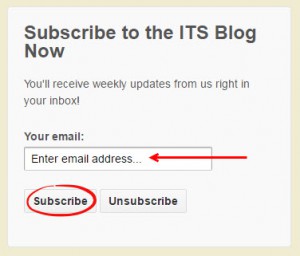 We appreciate your time. For all of the hard work you just did, here's a joke for you. If you didn't subscribe, if this makes you laugh then you have to subscribe. It's only fair.
A company owner was asked a question, "How do you motivate your employees to be so punctual?"
He smiled & replied, "It's simple. I have 30 employees and 29 free parking spaces. One is paid parking."
(http://www.ajokeaday.com/joke/office-jokes/punctuality-5myutxo4xe)
Happy Subscribing!
Share and Enjoy