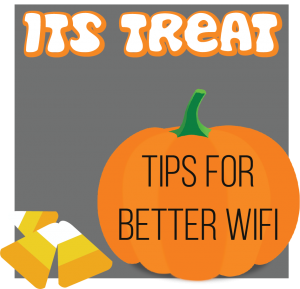 Over the summer, ITS worked very hard to upgrade the entire wireless network on campus. Now, students can enjoy Wi-Fi beyond buildings in areas such as in the Dell or the Academic Quad. The Wi-Fi is also faster and more reliable than before, even though we have more devices connecting than ever.
However, some devices may not be connecting as well as they could be for a number of reasons. When the new Wi-Fi was rolled out, there were some identified bugs that the vendor and ITS Networking staff have worked diligently to resolve. The infrastructure is only half of the equation.  The user can adjust and update device settings to maximize performance with the new Wi-Fi.  Take some time to adjust your device settings to optimize your Wi-Fi usage on your device.
Here are some tips for optimizing your Wi-Fi usage on your device:
First, if your wi-fi isn't as reliable as it used to be, ensure that all of your drivers are updated. Run all updates and double check your Norton and Symantec for updates on your Wi-Fi connected computer, laptop, or tablet. To double check that your Wireless Care Driver is up to date, you will need to double click on your network adapter, press the Driver tab, and then select Update Driver. For more information, visit this support page for general information about identifying the wireless card and drivers.
Have you noticed your android battery dies much faster than before? If you have Android 6.0 Marshmallow, your phone is attempting to search for Wi-Fi signals while it is in sleep mode causing your battery to drain excessively. To remedy this problem, you need to turn Wi-Fi scanning off. This is a two-step process. Ensure that you complete both steps. First, open Settings, select Wi-Fi, and tap the 3 stacked dots in the top right. Choose Advanced, and tap Keep Wi-Fi on during sleep. Make sure that is set to Never. You're not done. Second, head back to Settings, and this time select Location. Tap Mode then select Device Only. Press the back button and touch the 3 stacked dots in the top right of the Location Screen. Choose Scanning and disable Wi-Fi scanning. This will stop your phone from searching for Wi-Fi while it is sleeping and save your battery. For more information, visit this step-by-step instruction article with photos.
Android users, if you have noticed that your device will randomly disconnect from the Wi-Fi, we have found a solution for you. After you brought this issue with our service to ITS's attention, we contacted our vendor and requested additional support to resolve this issue as quickly as possible. Recently, two engineers were on campus testing Wi-Fi and meeting with Android users to research the disconnections. They were able to pinpoint the reason for the disconnections. We are now working to resolve the issue to restore optimal Wi-Fi performance to these devices.
Regardless of your device, if you have experienced poor connectivity, your device may be trying to connect to old Wi-Fi networks or public Wi-Fi networks such as Xfinity Wi-Fi. Forget your old or unwanted networks including EC_Open_WiFi, EC_SETUP_WiFi, and EC_GUEST_WIFI leaving only EC_SECURE_WiFi. For phones that keep connecting or attempting to connect to the wrong network, you can "Forget Wireless Network." To forget a network on Android, hold your finger down on the old network name and click Forget. To forget a network on iPhone, click the (i) symbol and make sure Auto Join is off and click Forget Network.
Now that you have maximized the Wi-Fi connectivity and speed on your devices, take advantage of the new network to improve your cell service for calling, too.  If you notice that you lose service or have few bars to make calls in the academic buildings, you might want to consider enabling Wi-Fi calling on your phone so that you can make and receive calls even when cell service isn't reliable.
You can enable Wi-Fi calling on some smart phones, such as Apple iPhones. Verizon users have an advantage in that those weird white cones on the ceiling are Verizon cell service boosters. AT&T or some other providers may still have poor service inside.
To enable Wi-Fi calling on an iPhone, start by navigating to Settings. Choose Phone, and select Wi-Fi Calling. Toggle Wi-Fi Calling on This iPhone to on or green and confirm Enable. AT&T users will be redirected to a page to fill out Emergency 911 information. This ensures that First Responders can locate you when using Wi-Fi calling.
The new Wi-Fi on campus is taking advantage of the newest and fastest Wi-Fi available today.  ITS and the vendor are working very closely together to maximize coverage and quality.  If you are still experiencing connectivity issues, please contact the Help Desk by phone at x3333, via email at helpdesk@etown.edu, or stop by in person in Nicarry 125.  We can relay questions and concerns to the vendor as they work with us to make and keep the new system solid.
Share and Enjoy