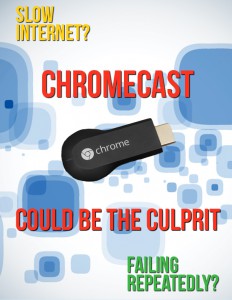 Is your internet slow? Does the connection repeatedly fail? The culprit could be wireless devices like ChromeCast interfering with the internet connection. If you don't set it up properly, ChromeCast could be eating up the signal.
To avoid connectivity problems, make sure that it is connected correctly. ChromeCast can work on campus without disrupting internet connectivity if it is configured and connected correctly.
ChromeCast cannot be connected to a computer while on campus. A computer must connect to EC_JAYNET_LOGIN while ChromeCast must connect to EC_OPEN_WIFI in order to function properly. Instead, connect your ChromeCast to a non-computer device like a television or game system, then connect to EC_OPEN_WIFI.
To configure your ChromeCast, read this Knowledgebase Article for assistance.
So, next time your internet is slow or isn't connecting, don't blame ITS. Blame Wi-Fi hogs like incorrectly configured ChromeCast devices.
Share and Enjoy