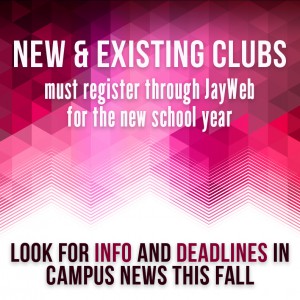 Both new and existing clubs must register through JayWeb for the school year. Each year, clubs will be required to register new officers, update contact information, and upload their constitutions. Student Senate will process the registrations for approval and constitution review. Student Senate estimates a 3-4 day review process for constitutions of new clubs before registration changes are made. Clubs can also use the registration form to request funds from Student Senate.
New clubs, which can be started at any point during the school year, can also use this form to register their club. All clubs must be registered and approved by Student Senate before you can gain access to technology resources, like club email and room reservations. Look for club registration information and deadlines in Campus News.
In order to register your club, login to JayWeb, then navigate to the Student tab. On the left navigation bar, click Online Forms, and click to view the Online Forms. When you're in the Online Forms, on the left navigation bar, click Student Groups. There will be a link on that page to register a student group.
Share and Enjoy