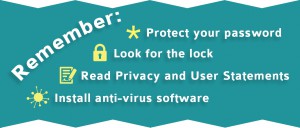 Browsing the web can be just as dangerous, or just as safe, as walking down the sidewalk. Just as you trust well lit sidewalks on streets with a reputation for being reliable, you should look for websites you can trust that have positive reputations and no hidden malware. You wouldn't walk down a sidewalk late at night with all the streetlights burnt out. Don't trust websites that give you the same feeling and avoid websites that seem sketchy or off right away. Often websites with tons of ads will also have hidden viruses. Use your best judgement when navigating to websites you are unfamiliar with.
Here are a few guidelines to ensure that your identity, information, and computer stay safe while browsing:
Protect your password. Never share your password with anyone, don't send your password through email, and never enter your password into a site you don't trust. Use complex passwords, and change your password often. Read more about protecting your password in this article: http://groups.etown.edu/its/2016/01/29/will-your-password-be-unbroken/.
Look for the lock. When browsing online, and especially when providing financial information or purchasing something online, look for the "closed padlock" next to the address bar and make sure the web address starts with https://. If not, your information and identity could be at risk. Read more about protecting your identity online with this article: http://groups.etown.edu/its/2016/03/21/it-could-happen-to-you/.
Read the Privacy and User Statements. I know, who actually reads the Privacy and User Statements? Well, everyone should. They may be long, and you may not really care, but there is important information about your security in those statements. You wouldn't sign a legal document without reading exactly what you are agreeing to, would you? Likewise, you shouldn't accept a User Policy such as Terms and Agreements without reading them. Those statements have information about how your information is stored and shared. To protect yourself, your identity, and your devices, read the Privacy and User Statements before you use an application or software.
Install anti-virus software. Make sure that you have anti-virus and malware protection software installed and up-to-date on your personal computer. The college requires all computers connected to the network (wired or wireless) to have Symantec installed. Read more about malware and anti-virus in this article: https://groups.etown.edu/its/?p=2528&preview=true.
How exactly do you avoid Malware?
Well, it's not a science. Just be careful what you click. If a website doesn't look reputable, then don't click any links or ads. If a website opens with a pop-up, then go back. Sometimes viruses can sneak in the second you open a website without even clicking any bad ads, so think twice before you click a link to an unfamiliar website. If the link is written in–text such as Google, you can right click and copy link address. Then paste the link into a word document to see where the link is going without opening it. (Go ahead, check me.)
A simple ad blocker can prevent many of the pop-ups or ads that you see on websites. For most browsers, like Chrome and Firefox, you can search for an extension or an add-on. These are often free apps you can download to improve your user experience. One such program would be Adblock Plus for Chrome or Firefox. Remember though, not all add-ons or extensions are safe either. Double check before you download anything from the internet. If a link looks suspicious, or doesn't match the location you expect, don't click!
Last, but certainly not least, if you mistakenly click a malicious link, receive a phishing email, or believe that you may have been a victim of a phishing attempt, please call or visit the ITS Help Desk as soon as possible in Nicarry 125, and don't forget to forward phishing emails to mailcop@etown.edu.
If you follow these suggestions, you will be more likely to have safe and more productive online experience.
Adapted from: Webroot – Internet Browsing Safety and Get Safe Online. 
Share and Enjoy