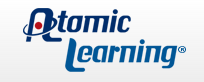 As subscribers to Atomic Learning, we are invited to join a special email series that highlights both professional and personal development—and there are prizes involved.
Focusing on self-improvement, Atomic Learning's Summer Session provides weekly tips to break down critical topics, such as increasing student engagement and shifting instructional practices, into an easy-to-digest format.
And, to encourage learning and reflection, each time a learner shares a takeaway they'll be entered for a chance to win $300 in prizes!
Ready to get started? Simply visit www2.atomiclearning.com/summer-2016 for details, sign up for your own growth, and then easily share this information with peers and colleagues using this handy printable flyer or on social media with a quick click of your preferred social media – Twitter, Facebook, or Pinterest.
Share and Enjoy