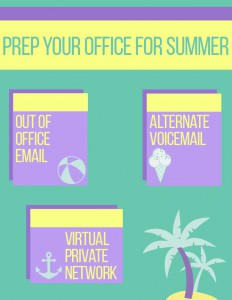 Leaving your office for the summer requires some planning. There are a few things that you should keep in mind before heading out for a well-deserved break.
Setting your email to automatically reply is an easy place to start. This notifies correspondents that you will not be responding to their email right away. It's always a good idea to include when you will be returning as well.
Similar to out of office emails, setting your voicemail to let callers know you are away is a good idea, too. This is called an Alternate Voicemail Greeting. This must be set manually.
VPN or Virtual Private Network allows a user to access network resources while off campus. This includes private and public folders, class folders, and other software. This can provide a way to access files and software while at home or away. The college provides a secure method for VPN, but you must submit a request for a VPN connection.
If you are planning to use your college-owned computer for the VPN process, you will need to schedule a time with the Help Desk (Ext. 3333) to have the VPN certificate installed.
Share and Enjoy