Wi-Fi not working as fast as you'd like? Believe it or not, there are reasons your internet takes forever to load, and it's not your computer's fault. Going wireless is not faster for anyone. The signal quality is affected by a number of things, all of which you can control.
Wireless printers and personal routers or hot spots, for example, contribute to a poor wireless signal for everyone else. Don't blame ITS next time your internet is slow; your co-worker's wireless printer could be the true culprit.
To make the Wi-Fi run faster, encourage your co-workers to take wireless printers home, or connect via a USB cable. Remind each other to turn off personal routers or hot spots, and use an Ethernet cable whenever possible.
If you hear the students complaining about the campus Wi-Fi, you can remind them that they can do the same. We can all work together to make our speeds faster while working wirelessly on campus. Together, we can stop Wi-Fi Monsters.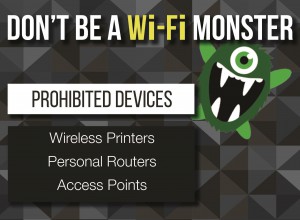 To learn more about why these devices are not allowed on campus:
Printers: http://helpdesk.etown.edu/helpconsole2012/kb/default.aspx#pageid=printing
Routers: http://helpdesk.etown.edu/helpconsole2012/kb/default.aspx#pageid=wireless
Share and Enjoy