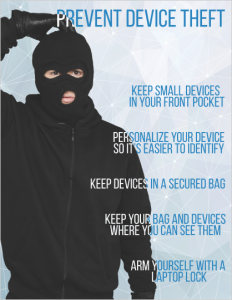 Device theft. Everyone thinks it won't happen to them. You think you're careful. No one steals things here! But it can happen here, and even if not here, it can happen somewhere else. Are you prepared if your phone or laptop is stolen? Don't get caught off guard. Work to prevent device theft before you're scrambling to recover.
Keep small devices like cell-phones, iPods, and cameras in the front pocket of your pants. Never put your devices in your back pocket. Thieves target the back pocket because the victim rarely feels if something is taken. A phone sticking out of a back pocket acts as a large shining billboard advertising to nearby thieves that your device is unprotected. Watch your back by putting your device in the front.
Personalize your device in order to identify it as your own. A case, stickers, or device skin can distinguish your item from someone else's. In the event that your device is stolen or you catch a thief with your device, make sure you are able to describe or identify your device easily.
Keep devices in a secured bag. For larger items, or items you won't need right away, put them inside of a secured bag like a backpack or purse. This makes it harder for thieves to take your items quickly without being noticed. Better yet, you can lock the zipper of your bag with a small padlock such as this one from Master Lock.
Always keep your bag and devices where you can seem them. A bag only goes so far when preventing theft if you put it down where you protect see it.  Avoid leaving your bag or items alone in public. This also applies to leaving your devices or bag inside of a vehicle. Even in a locked vehicle, a laptop, phone, or backpack are targets for thieves.
Consider arming yourself with a laptop lock or a theft alarm. For leaving your items for a short amount of time, make sure your items can be secured. Much like a bike lock, a laptop lock tethers a laptop to a table or chair and prevents it from being stolen. You can buy one in the school store or browse a variety from BestBuy's Online Store. A theft alarm is an application that alerts you and others around that your items are in trouble.
Finally, in the event that your items are stolen, be prepared. Set complex passcodes to prevent thieves from accessing your personal information, backup your devices to prevent losing all of your data, install a "Lost my Device" app to remotely lock, wipe, or locate a missing or stolen device, and review policies for reporting stolen devices and your insurance on those devices.
Keep your devices safe by preventing theft now. You might think it will never happen to you, until the day it does. For more information on preventing theft: visit these articles: Pack a Theft Proof Bag, How to lock a bag with no zippers, Tips for Preventing Theft.
Share and Enjoy