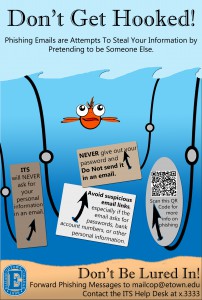 Phishing messages, or messages that attempt to steal your information by pretending to be someone else, can sometimes slip past the College's spam filters and land in your inbox. Don't be lured in by these messages! They sometimes masquerade as notifications from the IRS, requests for money from a friend, or a bank asking you to verify your account.  Take a look at the bullets below for ways to identify a phish.
If an email falls under any of these categories, it may be a phish.
You are asked to verify your account.
You are asked to confirm your identity.
You are asked to provide your username and password.
You are asked to click a link or download an attachment to open or reactivate an account.
The message is not signed by a member of the ITS staff.
The From address is not an @etown.edu address.
If you hover over the From: line, the address will be different from what is on the message.
Poor grammar and/or misspelling.
Requesting you click a link in the message.
Bank message asking for account verification, renewal, reactivation, security improvement.
Credit card notification with a link to download something.
Alert that you have received some money and all you have to do is click a link to start the process.
E-card message that you are not expecting even if it is from someone you know.
A notice that you have free "stuff" or unclaimed assets waiting for you and to just click a link to find out more.
IRS notifies you that you have a tax refund and to click a link to receive the refund.
Don't think that a professional looking message is legitimate. For example, spammers are duplicating the look of messages sent by banks and the IRS.
If you have a suspected phishing message, DO NOT open it. Forward the email to mailcop@etown.edu
Click here for more information on Phishing and more!
Remember, ITS will NEVER ask you for your password through an email. Any emails from ITS will be signed by the staff member who sent it.
Share and Enjoy