Pilot Classroom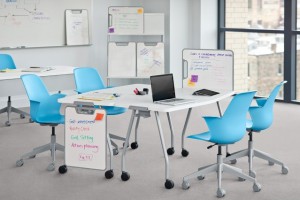 The planning for the active learning classrooms on the first floor of Nicarry is moving forward with due diligence. We have partnered with Steelcase to install a pilot classroom during Spring Break. The classroom is designed with mobile furniture to allow it to be easily reconfigured during class to support lecture, group work and class discussions. Technology will include two interactive whiteboards and an interactive projector. There will also be multiple sizes of portable writing surfaces.
The faculty in the Education Department will be piloting the furniture and the different technologies during the second half of the spring semester. This will allow us to be better informed as we make our final purchasing decisions for the classrooms that will be renovated this summer.
Summer Renovations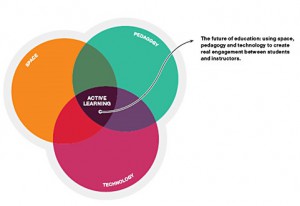 During the summer all classrooms on the first floor of Nicarry will undergo substantial renovations. The ITS Help Desk and office areas will also be renovated. There will be minor updates to all offices to include lights, paint, carpet, and ceiling tiles as needed.
There will be eight teaching/learning spaces on the first floor after the summer renovations. Four of these will be classrooms used by the Education Department. This includes two general education classrooms, a Science, Technology, Engineering and Math (STEM) classroom, and a classroom that will feature the pilot furniture from Steelcase. All of the rooms will be designed with mobile furniture, multiple screens, electronic whiteboards, whiteboards on most walls, and wireless technology to allow the instructor and students to project from their laptops and tablets.
Collaboration Classroom and More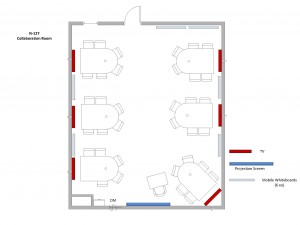 The most "high tech" classroom will be the room we call the collaboration classroom. This room will have six huddle spaces allowing groups of students to work on projects sharing a wall-mounted TV monitor which displays the output from their laptops or tablets. The room was designed to hold 35 students to accommodate core classes that may wish to utilize the space. The instructor can display material on the large screen as well as any or all of the TVs at the huddle spaces. There are Business, English, Education, Music, and Engineering classes scheduled in this collaboration classroom during the fall semester. There are still open time slots after 2:00 p.m. if others would be interested in scheduling a course in this room.
Other rooms included in the renovated space will include a videoconferencing room and a seminar room. Biology students enrolled in a joint program with Drexel will utilize the videoconferencing room. Others may use the room for interviews, meetings, or small classes. This room will feature two 70" displays, microphones, and speakers to allow for an optimum videoconferencing experience. The videoconferencing room will accommodate 6 people for videoconferencing and 12 people for meetings.
Other Tech
Some of the other technologies to be purchased to support the instruction in these active learning classrooms include a cart of iPads, a cart of Windows laptops or tablets, a few small robots, a small 3D printer, video cameras, and microphones.
Funding
With the gift in kind from Steelcase, a large donation from the Alden Trust, and another substantial gift from an alumnus, about one third of this renovation project is being covered by private gifts. The remainder of the project is funded from the Plant Reserve Fund. The Plant Reserve Fund is money set aside each year to cover major infrastructure upgrades. It is not part of the annual operating budget and must be used for maintenance and renovation of the facilities.
As we embark on this renovation, we are positioning E-Town to be on the cutting edge of classroom design and teaching innovation. This is an exciting time for instructors and students alike!
Share and Enjoy