Type an email address or website address in Excel and it automatically turns into a hyperlink.  Click on that cell to select it and a blank email message  appears.   All you wanted to do was copy that cell or range. What a pain!

Good news! You can remove the hyperlink and the hyperlink formatting. And you can do so for a range. No more removing one hyperlink at a time. The secret is the Clear command on the Home ribbon, in the Editing group.
Select the cell or range. Select Clear. Then Remove Hyperlinks.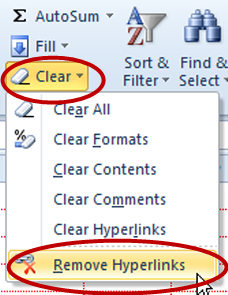 No more hyperlinks or hyperlink formatting.

Share and Enjoy