This is National Cyber Security Awareness Month.   Students, faculty and administrators all have a role to play.  It is important to never respond to these phishing messages.  They are designed to trick you into giving up important information.  Want to know more about Cyber Security?  Check out this Knowledgebase article.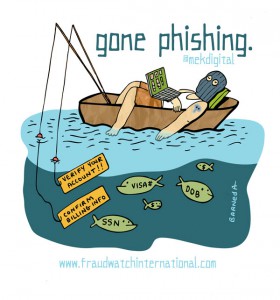 How can you identify it as a phishing message? Check out these articles on the ITS Knowledgebase here and here.

The spelling and grammar are usually poor.  Read the first sentence below.  What does that mean? (Example #1 below)
Many messages come from someone at another college.  Why would someone from bvu.edu (Buena Vista University) be writing to you about your mail storage? (Example #2 below)
The messages often link to another country.  If you mouse over the link (without clicking) you will often see they link to another country.  (.br=Brazil, .cn=China and so forth)
The messages are not signed.  We will always sign our messages with our names.  You may verify these names in the online college directory.
We will not ask for your personal information in an email message.
Learn to spot these phishing messages.  Here are some recent examples in red:

PHISHING EXAMPLE #1:
"Dear Staffs/Students
This is to inform you that you have an important course and regarding your next coming session.
Kindly sign in immediately to view the form.
Click here to sign in
Thank You.
© 2013 Blackboard | Technology and Solutions Inc. All Rights Reserved."
PHISHING EXAMPLE #2:
"From: Kathleen Dettmer-Skelly [mailto:Skelly@bvu.edu]
> Sent: Wednesday, October 02, 2013 6:35 AM
> Subject:
> 
> Your mail box has reached its maximum limit of GB storage we are currently upgrading to 20.5GB of storage Upgrade your account now, click
Please practice safe computing.

Share and Enjoy