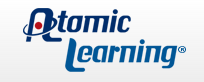 Elizabethtown is dedicated to bringing technology training and information literacy skills to all faculty, staff, and students on campus through a partnership with Atomic Learning.
From instant answers on "how to" questions to step-by-step training workshops, Atomic Learning simplifies campus technology integration, training, and support.
Log in via browser with your E-Town username and password—The log-in page for Atomic Learning is: www.atomiclearning.com/login/etown
Logging in via the Atomic Learning iPad App–You can download the free app from iTunes here.
Tap log-in and enter your E-Town username and password.
Tap on the advanced field and enter their realm (customer identifier): etown
Tap Go.
Our subscription to Atomic Learning includes nearly 50,000 step-by-step tutorials on common software such as Microsoft® Office, Adobe® CS6 and Blackboard®, and workshops and technology integration projects on emerging topics such as plagiarism and online courses.
Available 24/7 from campus or home, Atomic Learning creates flexible learning opportunities that make it easy for everyone to embrace technology and develop critical skills for success at school, at work and in life.
Have questions or need assistance?  Contact the ITS Help Desk at x3333.
Share and Enjoy