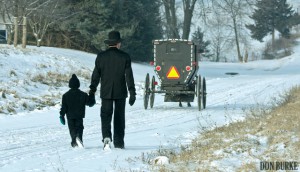 Because the Amish do not have church buildings, they hold church services in their homes. Every other Sunday, the members of the local district meet in the home of one of their members. Services rotate among the homes throughout the year, coming to each household about once a year depending on the number of households in the district. Services may be held in several rooms on the home's first floor, in the basement, in a barn, or in a large shop on the property. On the "off" Sundays, members might meet for Bible reading as a family or they might attend the service in a nearby district.
Religious services reflect the simplicity and plainness of Amish life. There are no altars, candles, organs, stained glass windows, choirs, or pulpits. Children sit with their parents during the long service. Youth, separated by gender, sit in a special section of the congregation. The morning worship service does not include special classes or Sunday school. (Except for some New Order groups and a few other communities, most Amish do not hold Sunday school classes.)
Slow, unison singing in German, without rhythm or instruments, unites the community together in worship. The ancient tunes are sung by memory. The words, many written by Anabaptist prisoners, are printed in the Ausbund, the Amish hymnbook. A scripture passage, read by the deacon, and two prayers (one silent and the other read from a prayer book), during which the congregation kneels, are part of the lengthy service.
An opening sermon, about thirty minutes in length, is followed by the main sermon, which lasts an hour or more. During a private meeting held at the beginning of the service while the congregation sings the opening hymn, the leaders decide which of them will preach. They preach in the Pennsylvania Dutch dialect and do not use notes.
The worship service ritualizes many of the key values of Amish faith—humility, community, simplicity, and yieldedness to God's will.
Additional information
See chapter 5, "Sacred Rituals," in Donald B. Kraybill, Karen M. Johnson-Weiner, and Steven M. Nolt, The Amish (Baltimore: Johns Hopkins University Press, 2013).
See chapter 5, "Rites of Redemption and Purification," in Donald B. Kraybill, The Riddle of Amish Culture. 2nd ed. (Baltimore: Johns Hopkins University Press, 2001).
See chapter 7, "An Amish Sunday in LaGrange County, Indiana," in Stephen E. Scott, The Amish Wedding and Other Special Occasions of the Old Order Communities (Intercourse, PA: Good Books, 1988).
D. Rose Elder, Why the Amish Sing: Songs of Solidarity and Identity (Baltimore: Johns Hopkins University Press, 2014).